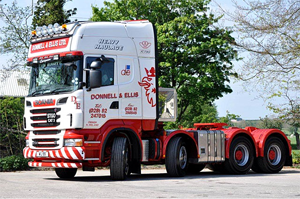 With over 20 years of experience in haulage, we've seen it all and done it all. Whatever challenges that come while delivering your goods, you can rest assured that we have the expertise and experience to overcome all obstacles to get your load to your destination on time.
Where do you need haulage services?
Wherever you're based, we can provide haulage services to any destination around the UK, Ireland and Europe for your convenience. From collections and deliveries, we'll make sure any goods you have for your business arrive safely and well on time to your destination of choice.
We have a fleet of heavy goods vehicles to take on all types of loads, from small goods to heavy items, and abnormally sized or shaped products. Whatever it is you need haulage for, you can rely on us to bring a dependable and specialist service.
• Heavy haulage
• International haulage
• Machinery transportation
• Wide loads
• Abnormal loads
• Fast and safe deliveries
• Competitive prices
For all haulage services Europe-wide, contact us today for more information and bookings on
+44 (0) 28 8224 7015
At Donnell & Ellis Heavy Haulage, we take pride in our vehicle appearance and the high quality of our services. If you're looking for some of the best deliveries around, you've come to the right place.
Why choose us for your haulage?
Professional haulage services for all types of goods